Here are a few suggestions on things to do when visiting the Lake Como area.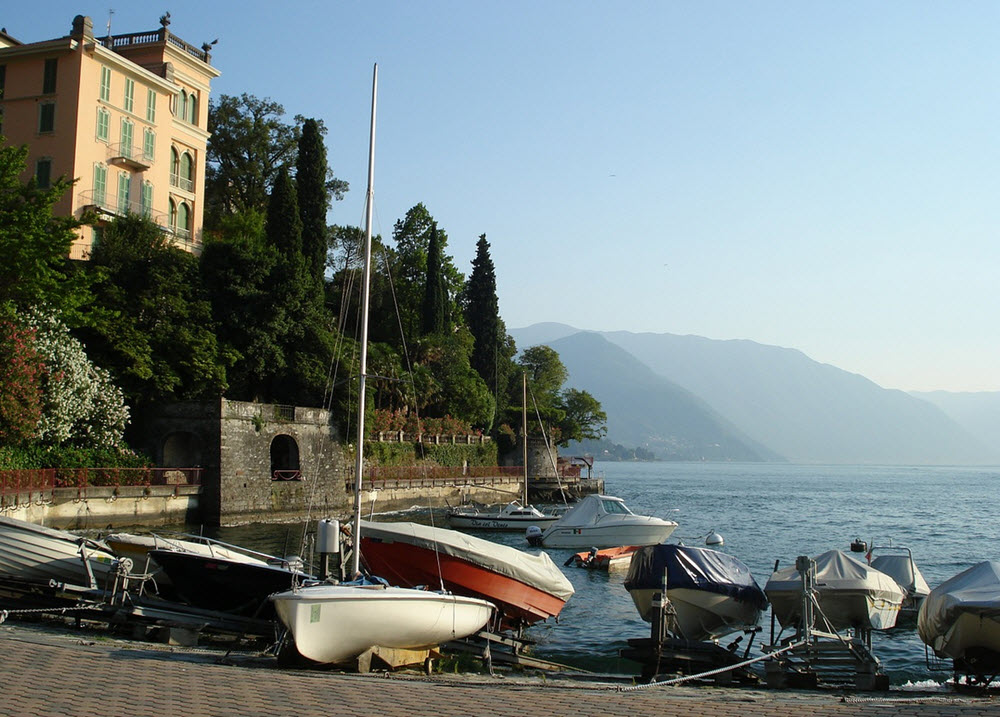 Hike
In the hills and mountains surrounding the lake, you'll find beautiful hiking opportunities for various skill levels. One example of a great starting point is Menaggio, from where you will have several hiking routes to chose among. The tourism office in Menaggio can provide you with up to date information about the hiking conditions.
Another great choice for hiking/walking is the Lake Como Greenway, a 10 km walkway on the western side of the lake, from Colonno to Cadenabbia. The stretch from Colonno to Messegra consists of high-level footpaths above the lake road. The route from Messegra to Cadenabbia is mostly lake-front.
Go kitesurfing
The Italian stage of the World Cup of Kitesurfing takes place in Colico, and this city is (unsurprisingly) home to schools were you can learn the hobby and rent kitesurfing equipment.
Utilise public boat transport
Travelling by boat on Lake Como doesn't have to break the bank, because the region's network of public transport includes many boat lines that connect the communities along the lake's shores with each other. Buy a ticket and travel like a local.
Enjoy the gelato
Around the shores of Lake Como and in the cities and towns, there are plenty of shops that sell locally made gelato. Which one will become your favourite?
Gelato is an Italian type of rich and flavourful ice cream made from a base of milk, cream and sugar. Gelato is typically flavoured with fruit and nut purees, and tend to contain less air and more flavourings than "standard" ice creams. In Italy, gelato is required by law to contain at least 3.5% butterfat.
Travel by funicular to Brunate
A funicular runs from the city of Como to the mountain town Brunate, which lies some 500 metres above Lake Como. The views over the lake and the surrounding mountainous landscape are amazing. The Volta Lighthouse is a fairly short hike away.
Go motor boating
As long as the horsepower is low enough, you don't need a boating license to go boating on Lake Como. The places that rent out motor boats know the limits and usually have plenty to offer for visitors without a license.
Learn how to sail
Several cities and towns along the shore have sailing schools. There is for instance a popular sailing school in Colico.
Visit grand villas
The Lake Como area is famous for its abundance of spectacular villas with mesmerising parks and garden. Fortunately, some of them are open to the public. You can for instance visit Villa Carlotta in Tremezzo and Villa del Balbianello on the Dosso d'Avedo peninsula.
See the lake from the air
The Aero Club in the city of Como arranges tourist flights over the lake in their seaplanes.