The comune (municipality) Bellagio is centrally located where the northern branch of Lake Como splits to form the lake's southwestern and southwestern branches. The triangle of land formed by this split is know as the Larian Triangle, and this is where you find Bellagio.
The city centre is on the tip of a promontory, while the surrounding districts are scattered along the shores and up along the hills. The far tip of the promotory is a public park with a marina.
In total, less than 4,000 people live in Bellagio.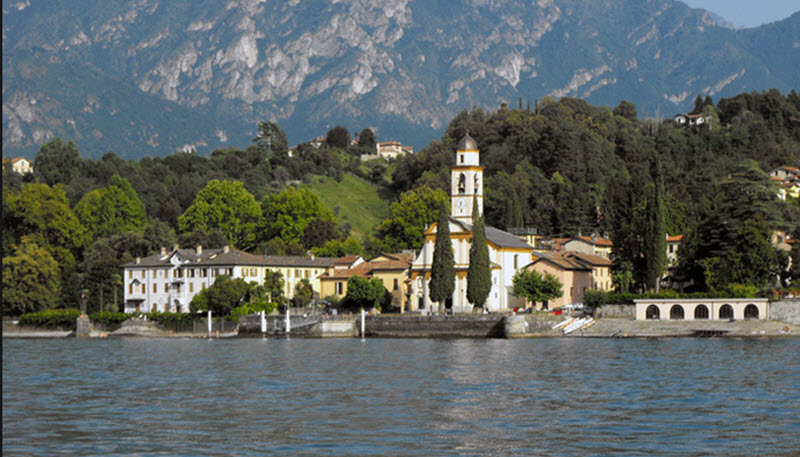 Names
In the local Lombard language, the comune is named Belás.
Persons living in Bellagio are called Bellagini in Italian and Belagin in Lombard.
Weather
Summers in Bellagio can be hot, but in the afternoon the breva (Lake Como breeze) will roll in, making the air feel cooler and fresher. Winters in Bellagio are mild, and freezing temperatures are uncommon.
Grand villas
Bellagio is famous for its many grand villas. Some of them are open to the public; you can for instance visit Villa Serbelloni and Villa Melzi d'Esti.
The Basilica
From the old city centre of Bellagio, take one of the seven medieval stone stairs (salite) that leads you to Piazza della Chiesa and the Basilica of San Giacomo. The basilica is named after Bellagio's patron saint Giacomo di Zebedeo (Giacomo il Maggiore), who is celebrated in Bellagio on the 25th of July each year.
The Basilica has its origins in a church built in Lombard-Romanesque style in 1075-1125. Since then, many changes have been made, but some parts of the older structures have survived into our time. For example, the base of the bell tower is actually the remnants of very old defence structures ("Torre delle Arti Bellagio").
Inside the Basilica, you can also see artefacts that have survived for centuries, such as a 12th century cross and a 15th century triptych. There is also an altarpiece from the 1500s.
Madonna del Ghisallo – the patron saint of cyclists
Near the town is The Shrine (Sanctuary) of the Madonna del Ghisallo. She is the patron saint of cyclists, and each year many cyclists bike to the shrine to honour her and ask for her protection. From Bellagio, the route covers a total distance of about 4 km, and the vertical rise is roughly 500 meters.